The DarwinIA trading contest will allocate, from its November edition ahead, a maximum of €4,500,000.00 of notional capital of Darwinex to the top 60 DARWINs.
---
First edition of DarwinIA contemplating traders' equity starts today
As announced last week, from today November 5th 2018 onward, our monthly trading contest incorporates equity of the trading account underlying winning DARWINs, as a factor to determine the amount of the 6-month-long capital allocation.
As explained, the main motive of this change is to increase the credibility of the DARWIN asset class in the eyes of investors.
The allocation will be a multiple o the smallest equity realized on the underlying account during the competition (minimum equity), with a maximum for each position.
Thus, the winner of the first prize will receive an allocation 30 times his or her minimum equity, with a maximum amount of €300,000.00.
Both the multiplier and the minimum equity required to obtain the maximum allocation are displayed on the contest's homepage for each position.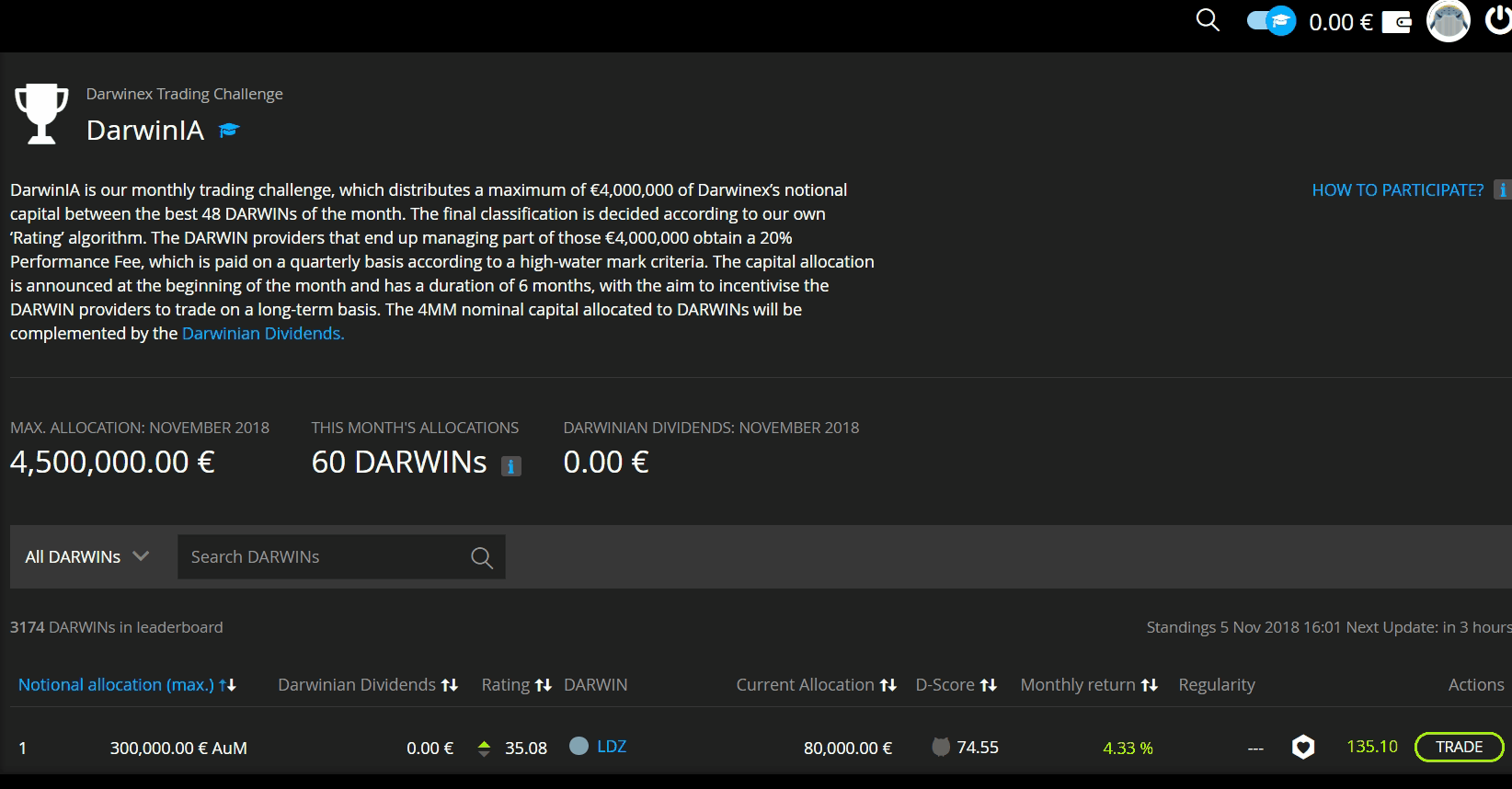 Moreover, DARWIN providers, if logged in to the platform, can also see their account's minimum equity and the allocation their DARWIN would receive should it be one of the final winners.
---
Possibilities to win in DarwinIA increase
Last week's announcement generated a heated debate among our traders.
After listening to this feedback, we decided to increase the possibilities to win DarwinIA as a way to compensate for the need of more own capital to obtain the maximum allocation.
From this month ahead, we'll allocate a maximum of €4,500,000.00 of notional capital to the top 60 DARWINs instead of the €4,000,000.00 to the top 48 DARWIN we initially contemplated.
---
We keep listening to your feedback
As you know, we're willing to introduce more changes to DarwinIA as long as they serve the final goal of catering for traders who are committed to make a living from trading by beating the market on a consistent basis.
Please keep the feedback coming both in the form of blog comments and forum discussions.
---
Now let's go and embrace the new edition of DarwinIA!